The Most Common Toothbrushing Mistakes
Brushing your teeth is one of the most important dental habits. When done correctly, it can keep your teeth healthy and free from cavities. Even when done incorrectly, it is still somewhat beneficial to your oral health. However, there are certain mistakes that you may be making while brushing your teeth that you are not even aware of. Depending on the type and severity of the mistake, your brushing habits may not be as beneficial as they should. Listed below are some of the most commonly made tooth brushing mistakes. Have you made any?
Rushing
With today's busy lifestyle, rushing is an easy mistake that we often make while brushing our teeth, especially on the days where we are running late for something. Still, is it essential to spend two minutes, or 30 seconds a quadrant, brushing your teeth in order to remove plaque and minimize the amount of bacteria in your mouth.
When you brush for less than two minutes, it is very likely that you are missing parts of your mouth. This allows the plaque and bacteria to settle and can eventually lead to the development of tartar, which is hardened plaque. The most common areas people tend to miss when rushing to brush their teeth are the side of their teeth that are closest to the tongue and along the gum line. In cases where plaque is left along the gum line, gum disease can occur in addition to tooth decay.
Not Paying Attention to Your Toothbrush
Your toothbrush is the main tooth used to brush your teeth. As such, it is important to make sure that you have the right one. For starters, you will need to find a toothbrush that can extend towards the back of your mouth and that has soft bristles. Using a toothbrush with hard bristles can be detrimental to oral health as it can lead to dental erosion and gum recession.
Once you have found an ideal toothbrush, you will also need to pay attention to how long you use it and whether or not it appears to be worn. When your toothbrush wears out, its bristles will appear bent, frayed, or faded. In most cases, you can expect to replace your toothbrush every 3-4 months. You will also need to replace your toothbrush after you have been sick in order to prevent spreading more bacteria.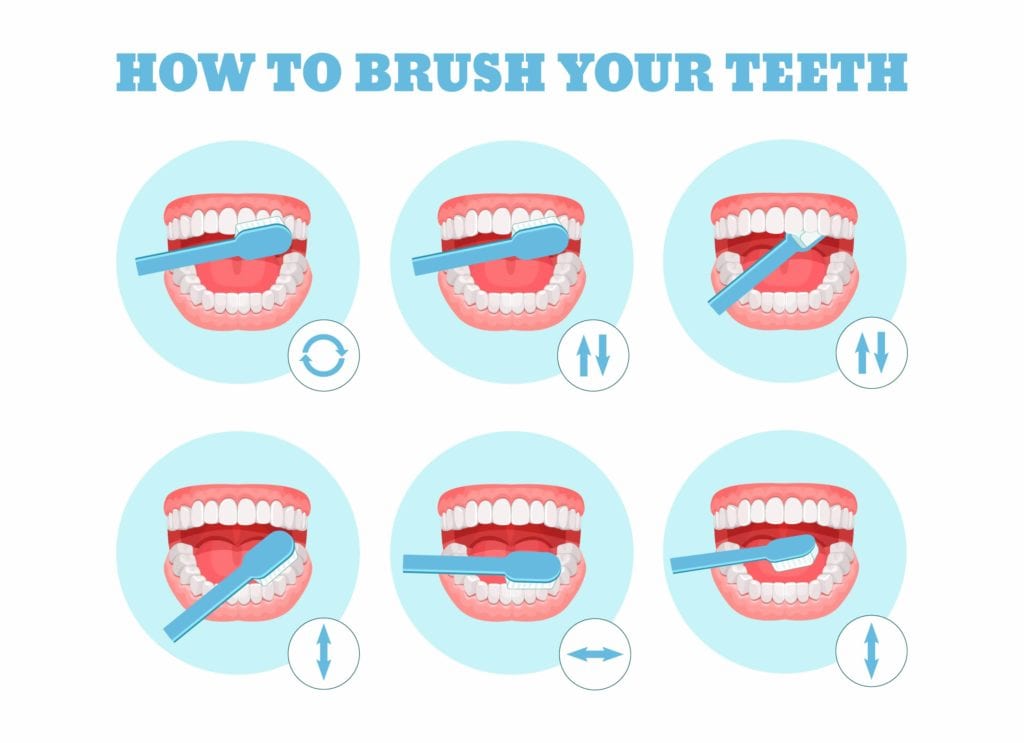 Not Paying Attention to Your Technique
Along with your toothbrush, your technique is also integral to your tooth brushing routine. While brushing your teeth, you will want to gently move your toothbrush up and down in a circular motion starting at your gums. You will also need to take special care not to apply too much pressure. Ideally, you should be massaging your teeth rather than scrubbing them. This helps to remove plaque from your teeth without causing enamel erosion or gum irritation. Regularly brushing too hard can actually be quite detrimental to your teeth and can increase your risk of tooth decay and gum disease.
Rinsing
Another common mistake people often make while brushing their teeth is to rinse their mouth out with water afterwards. However, you should not do this because of the fluoride that is in toothpaste. Fluoride strengthens your teeth and helps them be more resistant to tooth decay, therefore you will want to leave the fluoride on your teeth as long as possible. Rinsing your mouth with water after you brush also rinses off the fluoride.
Habits. We all have them. Habits are a routine behavior one does, sometimes without even realizing it. When it comes to your oral health, some habits can be beneficial. For example, brushing twice a day and flossing daily. However, some habits can also be detrimental to your oral health. In fact, here are some of the worst oral habits:
Biting Nails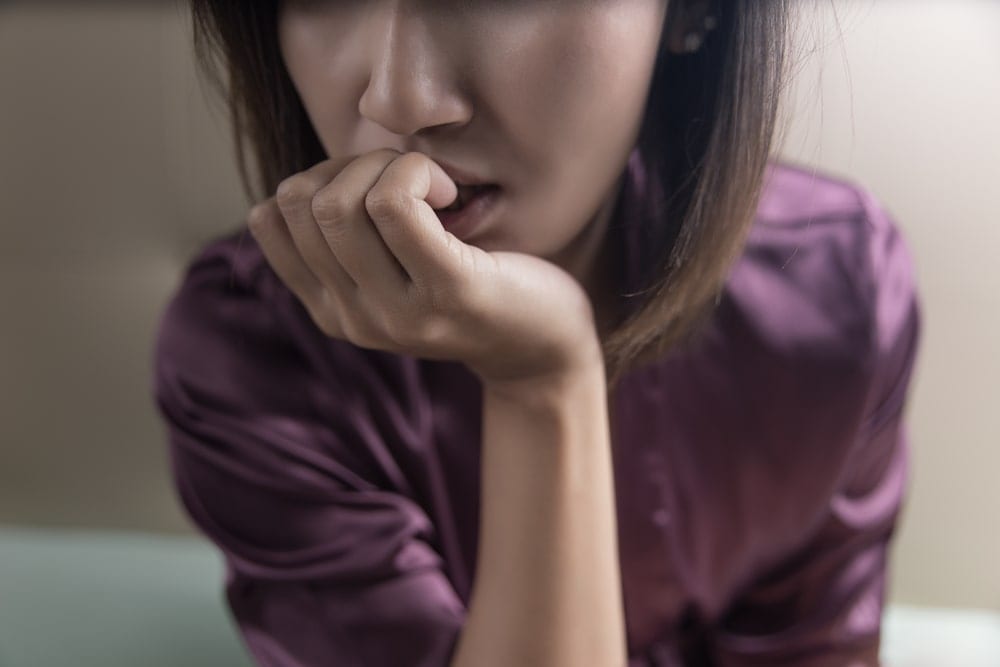 Biting your nails may not seem detrimental to your oral health at first, especially since your nails receive most of the damage. However, nail-biting can actually cause your teeth to become chipped. Additionally, the position of your jaw when biting your nails is abnormal and places strain on the joint. The more time you spend biting your nails, the longer your jaw is in this abnormal position. Eventually, this can result in jaw pain and dysfunction. Instead, try bitter nail polish or fidgeting with something in your hands to prevent nail-biting.
Grinding Your Teeth
Grinding or clenching your teeth, more formally known as bruxism, is an unfortunate habit brought on by stress. It often occurs unconsciously while sleeping, so you may not know you are a bruxer. Oftentimes, it is diagnosed by your dentist when they notice the wear marks on your teeth. Not only does bruxism cause enamel wear, but it can also lead to chips or cracks in the teeth. Severe bruxism can also cause jaw pain and is a main contributor to temporomandibular joint disorder (TMD). While it may be hard to stop grinding or clenching your teeth, stress management and a dental night guard can reduce symptoms and protect your teeth.
Over-Brushing
Yes, there is such a thing as over-brushing. This has little to do with how many times you brush, rather it is based upon how hard you brush. When you brush your teeth, it should be more of a massage and less of a hard scrub. You should also be using a toothbrush with soft bristles. If your toothbrush has bristles that are flared out sideways, this may be a sign you are brushing too hard. Rough brushing can eventually damage your enamel and gums.
Chewing on Ice
Both ice and tooth enamel have a crystalline structure. This means that when they are pushed together, one will inevitably break. Although this is usually the ice, there are cases when it can be your tooth or even a filling. Drinking with a straw can help curb the temptation of chewing on ice.
Using Your Teeth as Tools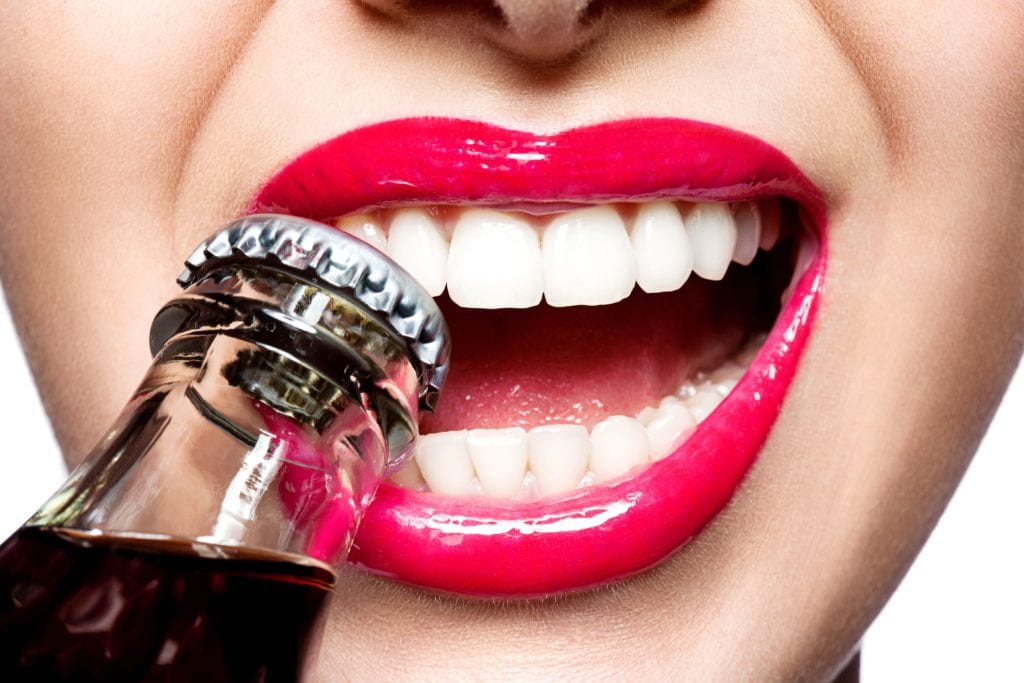 This is a habit that we have probably all been guilty of at one time or another. Unfortunately, it is an extremely dangerous habit that can lead to tooth and jaw damage. For these reasons, you should never use your teeth for anything but eating. This means not using your teeth like scissors, to hold things, or to open bottles and packages.
As you can see, these are some of the worst oral habits to have. Not only are these habits detrimental to your oral health, but they can result in the need for restorative dental treatments and possible emergency dental treatment. Luckily, taking steps to break these habits means that you will have a decreased risk of dental injury and overall better oral health.
Although many people think of their teeth as simply being tiny bones in their mouth, this is not the case. After all, teeth cannot regenerate the same way bone does and bones don't develop cavities. Additionally the outer layer of your teeth is known as the enamel and it is harder than bone. In fact, tooth enamel is the strongest material in your entire body.

At this point you are probably wondering why you get cavities if tooth enamel is stronger than bone. The simple answer is it has something to do with the composition of tooth enamel, as well as the few ways that it can be damaged. Even being the strongest material in the human body, tooth enamel is by no means indestructible.

Tooth enamel is composed of hydroxyapatite, which is the scientific term for calcium and phosphate molecules that are arranged in a crystalline formation. It is these components and their structure that gives tooth enamel its strength. In fact, tooth enamel contains the highest concentration of minerals and is 96% minerals.

Unfortunately, however, being highly mineralized also means that tooth enamel can be demineralized. Demineralization is a process triggered by acid where the mineral concentration is reduced, thus weakening the enamel. While tooth enamel is capable of remineralizing after being exposed to acid, excessive amounts of acid can eventually stop remineralization. This ultimately results in dental erosion.

Dental erosion has various causes, including:

Medical Conditions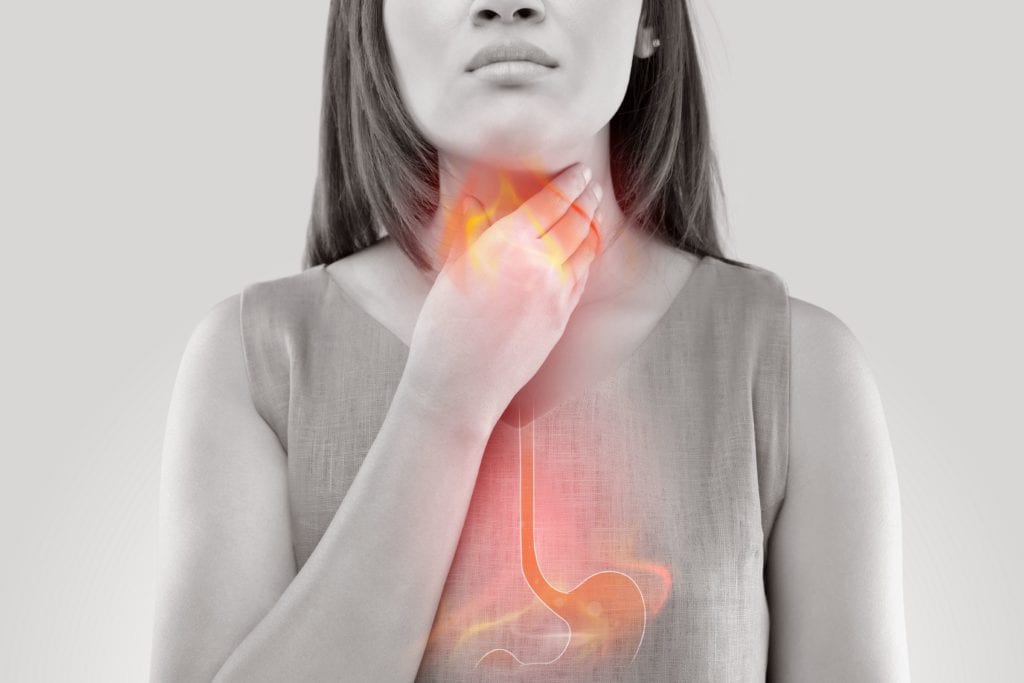 Certain medical conditions can contribute to or cause dental erosion. One of the most popular conditions to cause dental erosion is GERD due to the teeth being repeatedly exposed to stomach acid, which is highly acidic. However, medical conditions that cause frequent vomiting can also expose the teeth to stomach acid and can be problematic as well.

Diet
As with most other things, your diet can affect your tooth enamel. Regularly eating and drinking foods and beverages that contain a high acid content will also increase the acid concentration in your mouth. This can eventually prevent the teeth from remineralizing and can lead to dental erosion.

Xerostomia
Xerostomia is the scientific term for dry mouth, which is a condition that causes decreased salivary production. It can be the result of aging or even due to certain medications. Regardless of the cause, dry mouth can cause dental erosion due to a lack of saliva. This is because saliva contains necessary minerals to remineralize the teeth and it can also regulate acid concentration within the mouth.

Bruxism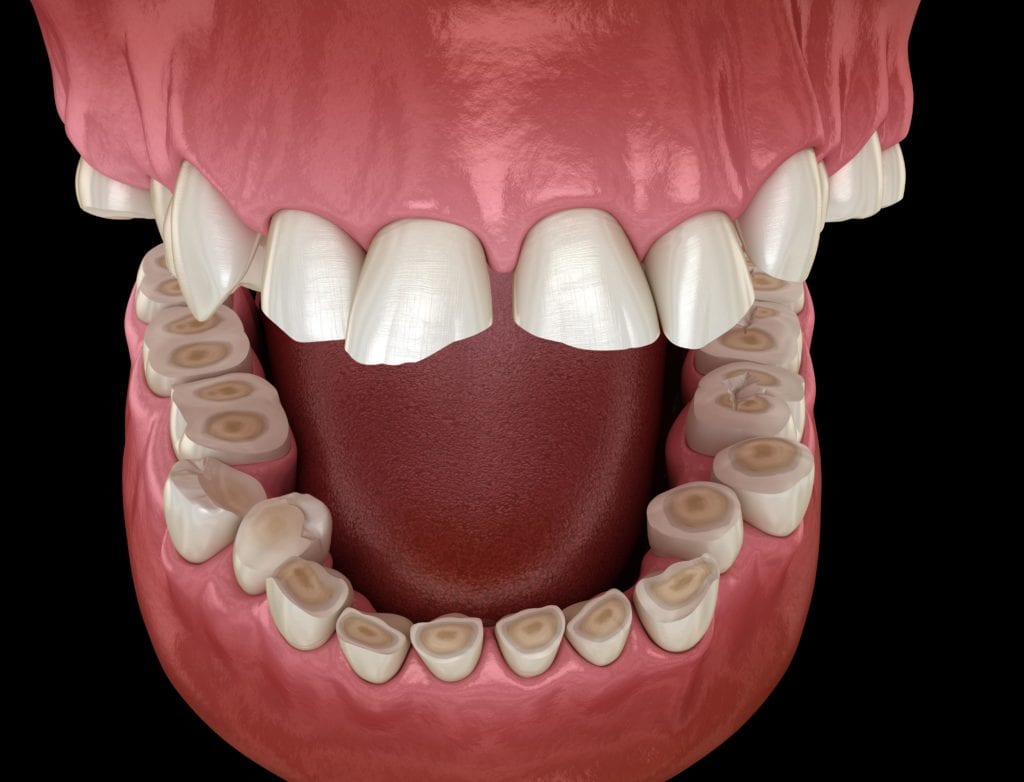 When one grinds or clenches their teeth, it is known as bruxism. Although bruxism is the only thing on this list not caused by acid, it can make the problem of dental erosion worse. This is because the grinding or clenching to two teeth together can cause damage alone. When the enamel has already been weakened by acid attacks, however, the damage associated with bruxism can amplify.

As you can see, teeth are not tiny bones and are instead composed of enamel. Even with being the strongest substance in the human body, however, enamel is still susceptible to damage stemming from acid. In fact, it is the regular exposure to highly acidic substances that demineralizes tooth enamel and can lead to dental erosion. 

Dr. Claudia Wood completed her dental training at University of Detroit Mercy Dental School. She has worked in Detroit, Gross Point and Warren Michigan for two years. She returned home to Canada in 2006 where she worked with Dr. Trevor Mair in Scarborough from 2006 to 2011. Her clinical experience includes two years working at Detroit Receiving Hospital, one of the busiest hospitals in the U.S., and volunteering in Haiti in 2006 for 10 days.

Do you find yourself fighting your child every night just to brush and floss their teeth? Does it seem next to impossible to get them to take care of their teeth? Are you worried they are going to need a root canal or some other restorative dental procedure? While it can be challenging to encourage your child to brush and floss, there is something you can do to reduce the chances of them developing harmful tooth decay.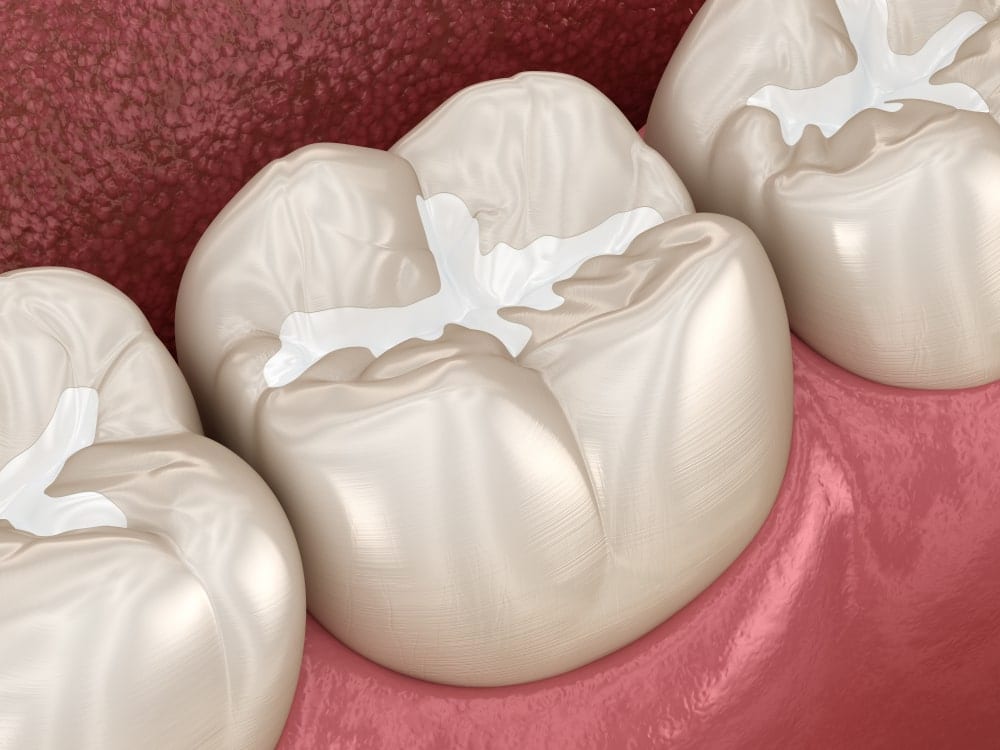 One common preventative dental treatment for kids is a dental sealant. Dental sealants are thin coatings of composite resin that are brushed onto the chewing surfaces of molars. Because molars are highly texturized and contain various pits and fissures, they are a common location for the development of dental decay in children. By applying a dental sealant to the molars, you effectively seal the tooth in order to prevent tooth decay.

Luckily, dental sealants are extremely easy to place. They are topically applied to the surface of your child's teeth, are painless, and do not require the use of dental anesthetics or sedation. Additionally they can be placed quickly and in as little as a single dental appointment.

Once applied, dental sealants can remain on the tooth surface for up to nine years. However, the American Dental Association, as well as most dentists, recommend that a dental sealant be reapplied approximately every 2-4 years. This is because the ADA has conducted multiple research studies that find sealants are highly effective in the first two years after placement, and still decently effective during year 3 and 4. After the four-year mark, however, the rate of effectiveness of dental sealants drop significantly and will continue to drop every single year.

For this reason, your dentist will need to evaluate your child's dental sealant every six months during their semi-annual dental check-up. Your child's dentist will evaluate the sealant for signs of damage or wear that could indicate the need to replace a sealant. If your child's sealant has become excessively worn or broken, it will need to be replaced to avoid a pulp infection.

To prevent your child from accidentally damaging their sealants, you will need to encourage them to avoid particular "damaging" behaviors. These can include, but are not limited to: Teeth grinding or clenching, nail biting, using their teeth to open packages, and chewing on ice, excessively hard foods, and/or toys. Additionally, you will need to stress to them that dental sealants are not a replacement for proper oral hygiene and explain that they still need to brush and floss. This establishes a routine early-on that will be much-needed later in life.

Overall, dental sealants are a highly effective and non-invasive way to reduce the risk of tooth decay and gum disease. On average, the majority of dental sealants can last for about four years before their effectiveness wears down and they should be replaced. However it is important to regularly take your child to regular dental appointments every six months so their sealant can be carefully monitored for possible damage. With dental sealants, you no longer need to worry about how well your children are brushing their teeth.

Sudden tooth pain, sensitivity to hot and cold, and tooth discoloration are all possible signs that you may need a root canal. Even if you don't have any symptoms, your semi-annual dental checkup may indicate the beginning of a pulp infection. If your dentist detects a pulp infection, they will likely recommend that you get a root canal.

Root canal treatment, also known as root canal therapy, is an essential restorative procedure used to remove infected tissue from the inside of the tooth. If you are in need of a root canal, at this point you are probably wondering how a root canal is performed. Well, root canals are performed using a few different steps:

Step 1: Preparation
The first step to performing a root canal is to prepare you for the procedure. Your dentist will prepare you by using a dental anesthetic to numb the area. They may also offer you the choice of using dental sedation to keep you relaxed during the procedure. Dental sedation is ideal for patients who have an active gag reflex and/or dental anxiety. Once your mouth is numb and you are relaxed, then the next step can commence.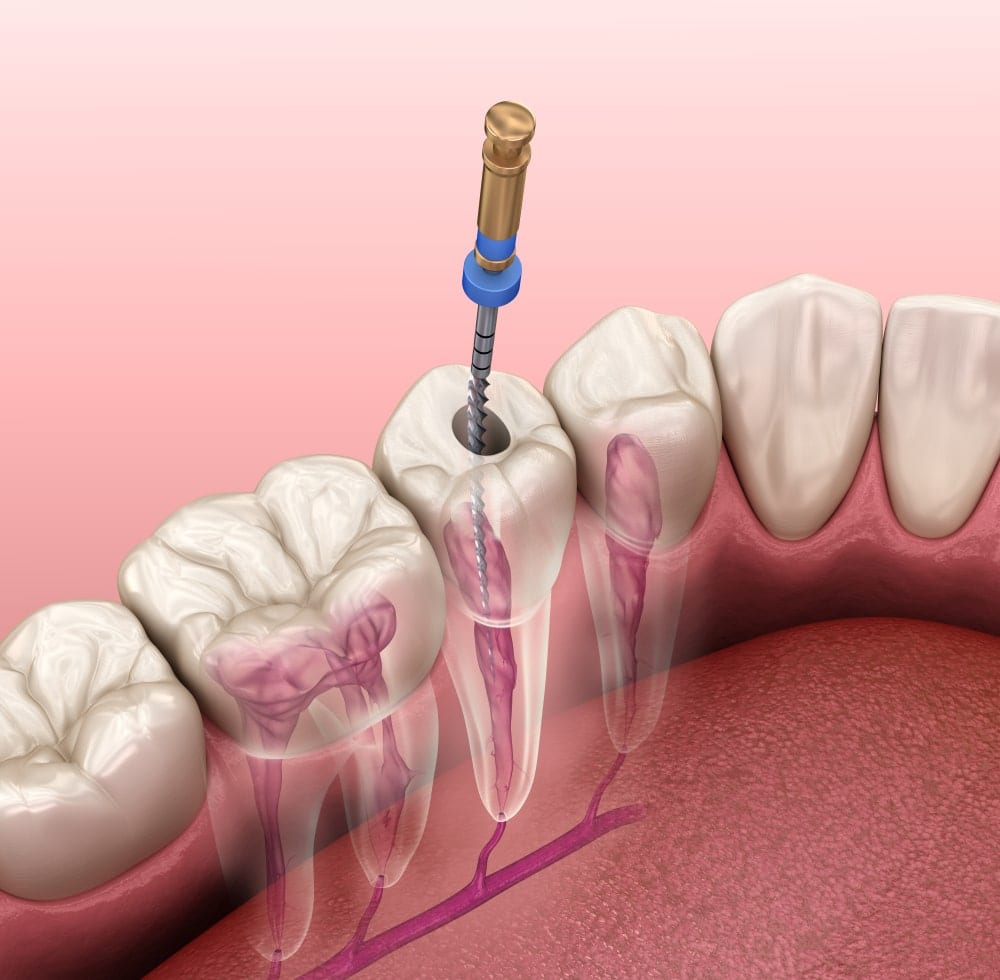 Step 2: Access
Unfortunately pulp infections occur inside the tooth. This means that your dentist will need to have access to the inside of your tooth. Using a dental drill, they will gently drill a small hole starting at the top of your tooth and moving down towards the pulp. Since you are numb, you should not be able to feel any pain, however you may feel pressure or vibrations.

Step 3: Remove the infection
Once your dentist has access to the pulp chamber, they will begin to remove all the decayed and infected tissue. They will completely clean out the inside of the pulp chamber and all the way down through the root canals. This ensures that the infection cannot continue to spread. After removing all the tissue, the remaining space will be flushed with a solution to clean the chamber and root canals.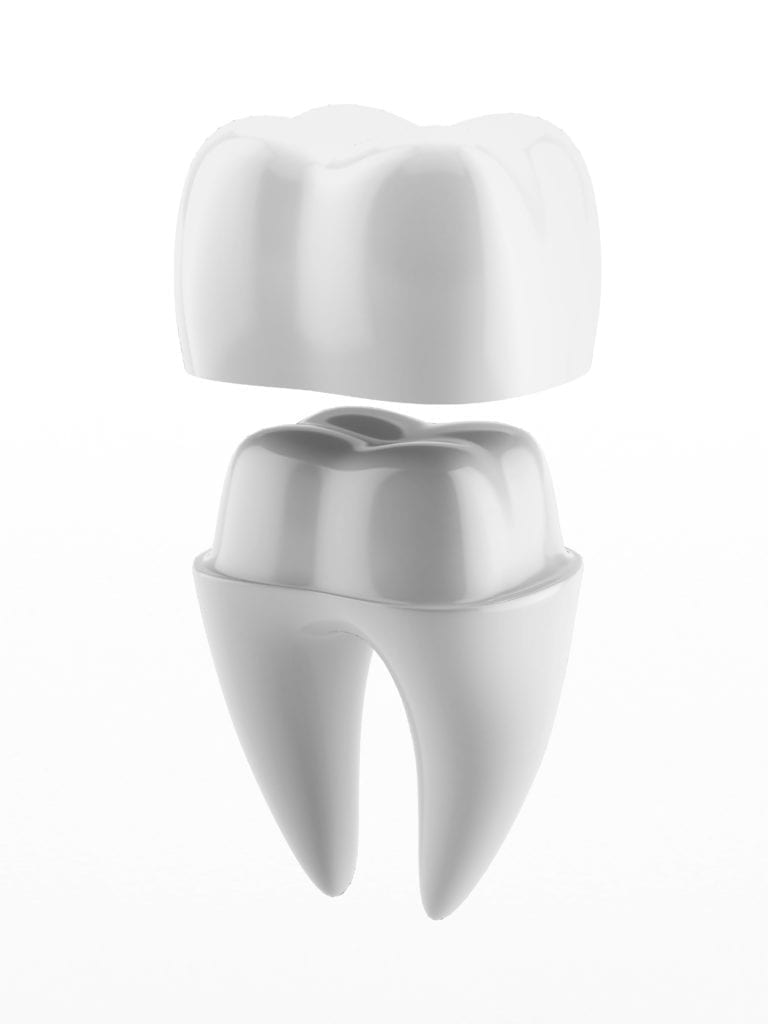 Step 4: Restore the tooth
At this point, the inside of your tooth is completely hollow. To keep your tooth from collapsing in on itself, a rubber-like material called gutta percha is placed in this hollow space. In some cases, a supportive post may also be used. Finally, a dental crown is placed over the entire tooth in order to provide additional structural support and protect the tooth from being damaged or decayed.

Now that you know the four steps of how a root canal is performed, you are much more prepared for your root canal appointment. Knowing what to expect during a root canal makes the entire process easier and allows you to prepare yourself. Although root canals are not the greatest experience, they certainly are valuable procedures that will keep you smiling in the long run. 

Dr. Claudia Wood completed her dental training at University of Detroit Mercy Dental School. She has worked in Detroit, Gross Point and Warren Michigan for two years. She returned home to Canada in 2006 where she worked with Dr. Trevor Mair in Scarborough from 2006 to 2011. Her clinical experience includes two years working at Detroit Receiving Hospital, one of the busiest hospitals in the U.S., and volunteering in Haiti in 2006 for 10 days.
Are there things about your smile that you just don't like? Do you wish that you could fix them, but don't want to devote a lot of time to cosmetic dental treatment? Are you looking for a way to fix several different things about your smile at once? If this sounds like you, then you may want to consider porcelain veneers.

Porcelain veneers are thin shells that are placed on the front of your teeth. You can choose to have veneers placed on a single tooth, all your visible teeth, or any number of teeth in between. No matter how many veneers you decide to have placed, they can usually all be placed in as little as two dental appointments.

During the first appointment your teeth will be prepared by removing a tiny amount of enamel to make room for the shell. Then a dental impression will be taken and sent to a dental lab to fabricate your veneers. During the second appointment, they will be adhered to your teeth. Once they have been applied, dental veneers can correct the following five things:

1. Size
One thing that can make your smile appear less than perfect are teeth that are not all the same size. Although the different types of teeth do vary in structure and size, they should all be relatively similar to look nice. Porcelain veneers are able to create a more even smile by correcting the size of the teeth so that they complement one another. Furthermore, veneers can also be used to correct teeth that appear to be too small because of a gummy smile.

2. Color
Have you tried professional teeth whitening to no avail? This may be because the types of stains on your teeth are either unable to be removed by whitening treatments. For example, stains caused by age may or may not be improved with whitening, and those caused by medications will simply continue while taking those medications. For these cases, having porcelain veneers placed can improve the color of your teeth.

3. Shape
Whether your teeth are oddly shaped or just not as contoured as you'd like them to be, porcelain veneers can help. Veneers can improve the contour of each tooth so that they have an overall more even and pleasing appearance.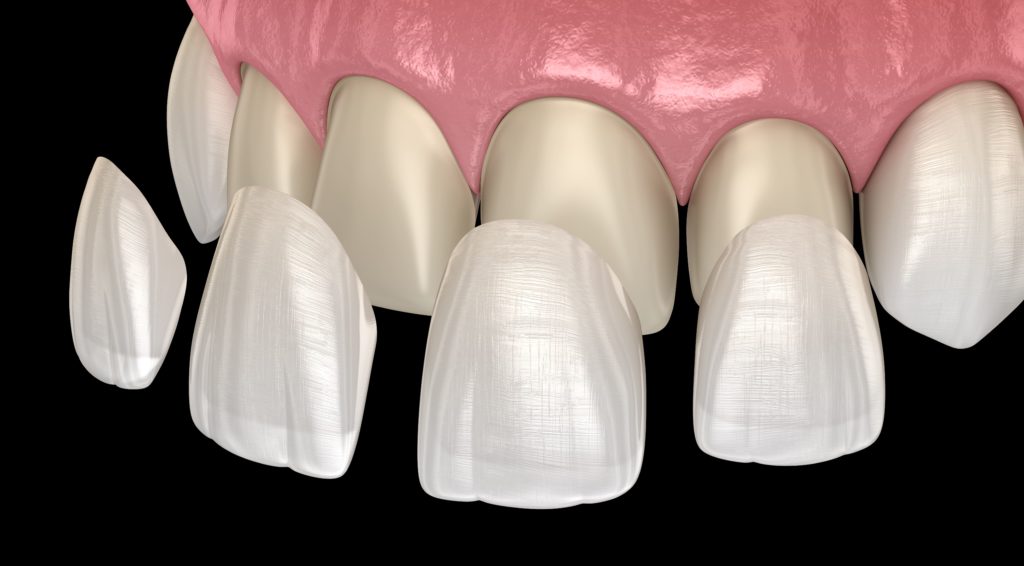 4. Spacing
Whether your teeth have gaps between them or are so close that they slightly overlap, uneven spaces between teeth can impair the look of your smile. Veneers work especially well to eliminate gaps between teeth. In some cases, they can also be used to correct overlapping teeth. However, it depends on the extent of the overlap.

5. Alignment
Porcelain veneers are also able to help with alignment issues. To be clear, veneers will not alter the alignment of your teeth, however they can be used to cover up crooked teeth so that they appear to be properly aligned. In cases where the alignment problem is too severe, your dentist will likely recommend another treatment.

Overall, porcelain veneers can offer you a beautiful smile by fixing the size, color, shape, spacing, and alignment of your teeth. It is also possible to achieve this smile with a conservative procedure that takes as little as two dental appointments. If porcelain veneers sound like an ideal cosmetic dental treatment for you, then the final question is: what are you waiting for?
Dr. Claudia Wood
Dr. Claudia Wood completed her dental training at University of Detroit Mercy Dental School. She has worked in Detroit, Gross Point and Warren Michigan for two years. She returned home to Canada in 2006 where she worked with Dr. Trevor Mair in Scarborough from 2006 to 2011.
Her clinical experience includes two years working at Detroit Receiving Hospital, one of the busiest hospitals in the U.S., and volunteering in Haiti in 2006 for 10 days.

Taking good care of your teeth and preventing dental issues is the best method for maintaining oral health. Because of this, general dentists actively promote preventative cleanings, checkups, and healthy home care routines. Most people recognize the benefits associated with these types of preventative surfaces and do their best to maintain these cleanings, checkups, and daily hygiene habits.
However, fewer people are aware of another common preventative dental treatment called dental sealants. To help you learn more about dental sealants are and how they are used to benefit patients, here are five essential facts about dental sealants:
1. Seal the Tooth
Just as their name suggests, dental sealants can effectively seal the tooth in order to protect it from damage. They are most commonly applied to the highly textured chewing surfaces of molars. Once painted over the tooth, they are hardened in place to act as a barrier between the tooth enamel and plaque. This prevents plaque from accumulating in this hard to reach place and decreases the chances of developing tooth decay.
2. Prevents Cavities
Dental sealants have been found to be highly effective at preventing cavities when applied to the molars. In the first two years after application, dental sealants have been found by both the American Dental Association and the Centers for Disease Control and Prevention to reduce the risk of cavities by 80%. The CDC further notes that even after two years, dental sealants continues to reduce the risk by 50% until year four.
3. Helps Certain Patients
Dental sealants are especially beneficial to certain patients such as children, the elderly, or those with mental or physical impairments that affect their dental routine. Although all the groups have their differences, the common factor is that they may struggle with properly caring for the molars in the back of their mouth. Using dental sealants can help maintain their oral health despite this.
4. Different Variations
There are also different variations of dental sealants. These variations are based on the material used to produce the sealant. Dental sealants can be made from glass ionomer cement, resin modified glass ionomer cement, composite resin, and polyacid modified composite resin. Additionally, sealants can be clear, white, or customized to the natural tooth color depending on the material that it is produced from.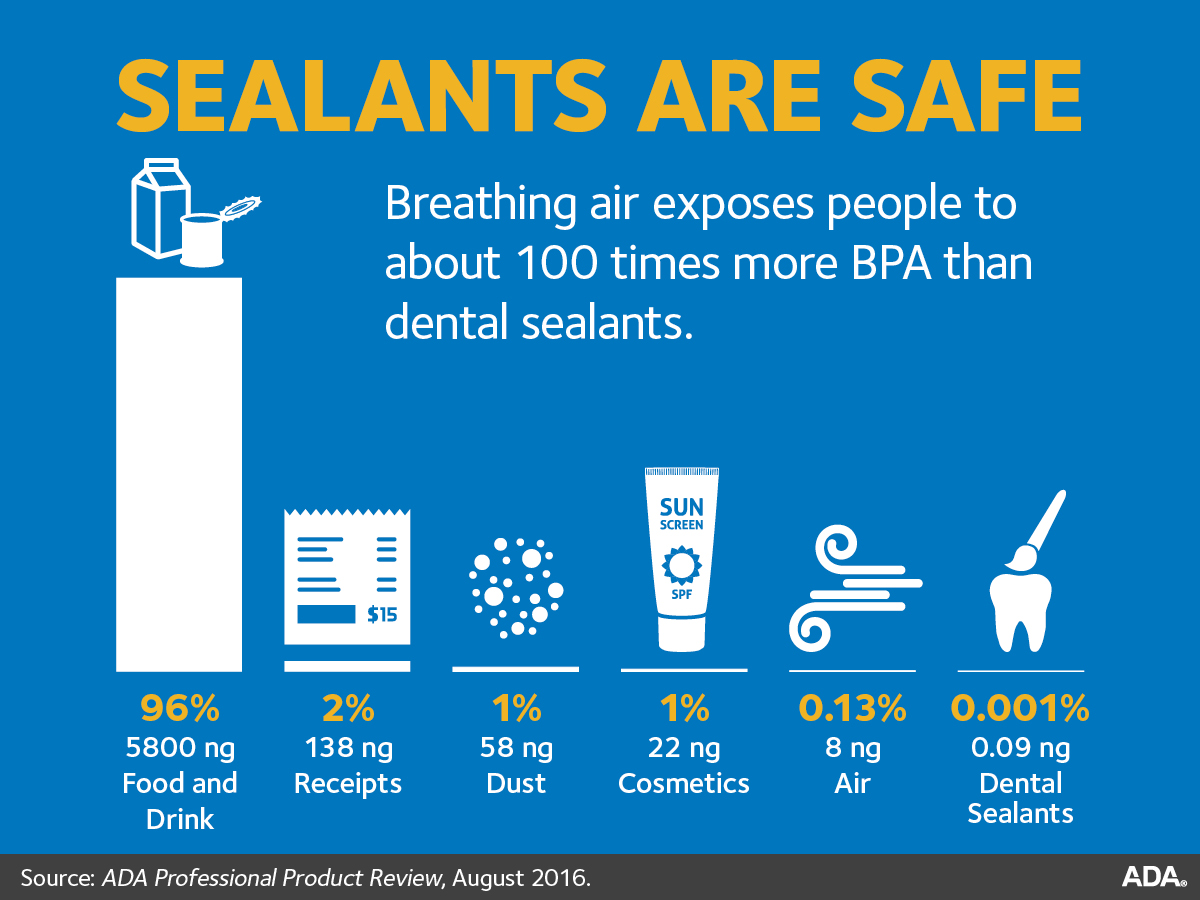 5. Safe Treatment
Although some people have expressed concern over the BPA levels in dental sealant materials, the Canadian Dental Association considers dental sealants to be entirely safe for their intended use. Currently, Canada has only banned materials with BPA in baby bottles and infant formula cans. This is because heating these products increases the amount of BPA to possibly dangerous levels. This does not happen with dental materials, and the amount of BPA contained in dental sealants is less than one is exposed to by breathing air.
As you can see, by sealing the tooth and preventing cavities, dental sealants can be highly beneficial for dental patients. They also are produced with a variation of materials and colors that are considered safe by several prominent organizations. The next time you visit your general dentist for your regular teeth cleaning, you may want to ask them more about dental sealants and your oral health.
Dr. Claudia Wood
Dr. Claudia Wood completed her dental training at University of Detroit Mercy Dental School. She has worked in Detroit, Gross Point and Warren Michigan for two years. She returned home to Canada in 2006 where she worked with Dr. Trevor Mair in Scarborough from 2006 to 2011.
Her clinical experience includes two years working at Detroit Receiving Hospital, one of the busiest hospitals in the U.S., and volunteering in Haiti in 2006 for 10 days.
If you haven't been to the dentist in awhile and are now scheduled for your dental appointment, you may be wondering what to expect. Although there are many horrible myths surrounding dentistry, the simple fact of the matter is that dental appointments are not something to be feared.
In reality, your general dentist is devoted to preserving your oral health and preventing dental issues from occurring. An important part of this prevention are regular dental cleanings and consultations, once every six months. During your dental appointment, here are five things your general dentist will do:
#1: Dental X-Rays
Often times, this is one of the first things you will do when arriving to your dentist's office. Dental x-rays allow your dentist to evaluate the underlying bone structure and can even help them identify cavities in places that are not easily visible. There are two types of dental x-rays that may be taken: extraoral and intraoral. Extraoral x-rays focus on the entire outside of the face and are used to evaluate the jaw bone and joint. Intraoral x-rays, on the other hand, are focused on the structures within the mouth, such as the teeth and gums. Dental x-rays are fast, painless, and use minimal radiation. For more information about dental x-rays, see "Dental X-rays".
#2: Dental Exam
After your dental x-rays, the next step is usually the dental exam. During your dental exam, your dentist will use a dental mirror, probe, and a light to better see into your mouth. They will use the probe to check for signs of cavities or tooth sensitivity. They will also check your teeth for damage or premature wear. Then, your gums will be evaluated for signs of gum disease by measuring your gum pockets. Excessively deep gum pockets can indicate gum recession caused by gum disease. Your jaw function and bite will also be checked.
#3: Oral Cancer Screening
While your dentist is examining your mouth, they will also be performing an oral cancer screening. This screening basically consists of your dentist looking at your tongue, gums, hard and soft palates, lips, and inner cheeks. They are looking to see if there are any irregularities in the color, size, or shape of these structures that could indicate the presence of oral cancer. For more information on oral cancer, visit the Oral Cancer Foundation.
#4: Consultation
At some point during your dental exam, your dentist will ask you about your medical history and current medications. This is because oral and overall health are closely related and learning about one helps to gain insight about the other. This is also the point where they will explain your dental x-rays and their findings from your oral exam. Many people use the dental consultation to learn more about their oral health and ask questions about any concerns they may be having.
#5: Teeth Cleaning
Usually one of the last parts of your dental appointment is your professional teeth cleaning. During a teeth cleaning procedure, a special dental tool called a scaler is used to scrape plaque and tartar off the surface of your teeth. This helps to remove the bacteria responsible for tooth decay and gum disease. Once your teeth have been cleaned, a fluoride polish will be applied as an additional preventative measure.
Overall, dental appointments are not something to be feared. Rather they provide a valuable opportunity to learn about your oral health and how to properly maintain it. Additionally, regular dental appointments allow for consistent preventative treatments that can eliminate or reduce the risk of developing severe dental problems.
Dr. Claudia Wood
Dr. Claudia Wood completed her dental training at University of Detroit Mercy Dental School. She has worked in Detroit, Gross Point and Warren Michigan for two years. She returned home to Canada in 2006 where she worked with Dr. Trevor Mair in Scarborough from 2006 to 2011.
Her clinical experience includes two years working at Detroit Receiving Hospital, one of the busiest hospitals in the U.S., and volunteering in Haiti in 2006 for 10 days.